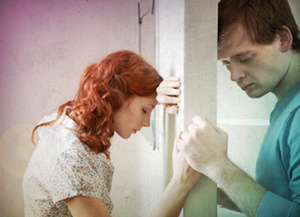 Over ninety per cent of men would have viewed porn in some form before marriage. Many are occasional users, going there when stressed, tired or as a release for sexual tension. However, the images and behaviours they see wheedle their way into the brain.
Porn sex does not include affection, intimacy or expressions of love. There is no kissing, cuddling or foreplay. The focus is on male pleasure with an apparently ever-available complaint partner. These expectations get carried to real life relationships, with unreal expectations of sexual behaviour, abuse and finally infidelity and separation[1]. Women who find out that their partner is a porn user struggle with two issues. Firstly there is a deep feeling of rejection and loss of self-worth. Secondly there is anger and feelings of being used and abused at being asked to do things that they feel are unnatural and reflect what porn stars do. Therapy requires dealing with the compulsive porn use as well as mending the fences of intimacy and re-establishing a good sex-relational model.
Is porn use always bad and destructive? Is there 'good porn'? 
What about couples who use porn as part of their sexual lovemaking repertoire?
Porn when accepted as the 'norm' sets the user on a slippery slope of behaviour that drags sexuality from being a wonderful act of intimacy and love into the cess pit of aggression and ugliness.  It exchanges the reality of one flesh couple sex for the fantasy world.
Whatever age or sex you are – it is destructive.
Porn can end up as an addiction:
The debate is on-going as to whether regular, use of progressively more graphic and aggressive pornography is actually an addiction like alcoholism or a hypersexual disorder more akin to compulsive gambling. What we do know is that there is a release of brain neurochemicals like dopamine when watching porn that mimic the drug high of cocaine. Also that it is likely that there is a cortical neuronal 'rewiring' to alter sexual arousal pathways. Porn use leads to an addiction cycle of desensitization and the need for increasingly higher doses (more graphically sexual porn). Treatment of porn addiction is today a specialist area and involves both the treatment of the immediate problem as well as on-going prevention.
See you next week when we disuss some issues in management.
---
[1] Franklin O. Poulsen , Dean M. Busby & Adam M. Galovan (2013): Pornography Use: Who Uses It and How It
Is Associated with Couple Outcomes, Journal of Sex Research, 50:1, 72-83