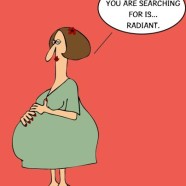 You waddle into the room. You feel – huge. Just yesterday in the bathroom mirror you saw the shiny stretch marks on your once tight and taut abdomen. Your breasts feel like melons. Your legs like tree trunks. Sexy is what you do not feel. And yet – your husband wants to make love. He says you look lovely. 'Ripe' he said!
Or maybe you have just found out that you're pregnant, and wonder how it will affect your sex life.
You have so many questions. Let's try work through some of them:
Is it safe to have sex when pregnancy?
If you have a normal pregnancy, you can have sexual intercourse as often as you like – right up until their water breaks or you go into labour. You won't hurt the baby. The amniotic sac and the strong muscles of the uterus protect your baby, and the thick mucus plug that seals the cervix helps guard against infection. You might feel mild contractions in your uterus (womb) if you have an orgasm, or on nipple stimulation, but these are temporary and harmless.
Talk to your doctor if you are anxious. There are some situations where the doctor may ask you to avoid sexual intercourse. These include:
Vaginal bleeding or leaking of amniotic fluid.
Your cervix is open earlier than expected
The placenta covers the opening of the uterus.
You have a history of premature labour
You are carrying more than one baby.
None of this, however, excludes other acts of sexual intimacy that don't involve the vagina. Remember – there's a lot more to your body than your genitals! You can touch, kiss and cuddle. Use all of your body, and that of your partner as one big erotic zone. Remember: Your whole body is your husbands; and his is all yours to enjoy (1 Corinthians 7:4).
Will sex be different in pregnancy?
Many women report that sex feels different during pregnancy. Some find it more pleasurable, at least at times. Others may find it less so, for part or all of the pregnancy. Your body looks different. You are sick at some times and super at others. And your genitals feel and respond differently. Hormone fluctuations may result in decrease in desire.
How you see your pregnant body:
If you think that your sexuality and attractiveness depend on how your body looks, then you may feel ashamed to be naked and have a decrease of desire for sex as your body changes. This is a good time to remind yourself: The changes in your body are what God intends for you-at this time in your life. Embrace it and honour God with your body (1 Corinthians 6:19-20) – in bed and out of it.
Changes in your genitals:
Increased blood flow to the pelvic area can cause engorgement of the genitals. The heightened sensation that results may add to your pleasure during sex. You may have more vaginal discharge or moistness, which could also be a plus. Orgasms could be felt more with mild abdominal contractions.
Others don't like how these changes feel and find that genital engorgement gives an uncomfortable feeling of fullness. If this is you – it may help to know that intercourse and orgasms may decrease the engorgement and actually make you feel better.
Let your partner know if anything feels uncomfortable, even if it's something you're used to doing together. If you find you're feeling turned on but not enjoying intercourse, consider other erotic activities, such as mutual pleasuring, oral sex, or self-stimulation. Experiment and make adjustments as a couple to make sex relaxing and pleasurable for both of you.
Positions and practices:
In a healthy pregnancy, there is no reason why you should not continue any positions and practices you practiced and liked before.
The only practice where you need to take care about is oral sex. Licking is fine, but blowing into your vagina is a no-no. Forcing or blowing air into the vagina could cause an air embolism (a bubble of air that gets into your blood circulation). This rarely happens, but it can be life-threatening for you or the baby.
When it comes to positions, be innovative and find the position that is most comfortable for you. Many couples find side-to-side facing or spooning comfortable. As pregnancy advances, you will be uncomfortable flat on your back – so avoid the male superior position.
Sex for induction of labour:
There is no evidence that having sex close to delivery can hasten labour. At term, nipple and genital stimulation do increase oxytocin slightly and semen does contain prostaglandins. But these are insufficient to have any significant effect on labour.
So – go ahead and have sexual intercourse when you are full term, but not as a method of inducing labour!
Sex after delivery
The resumption of intercourse after delivery (postpartum) depends on your level of comfort. Pain during sex (dyspareunia) is the commonest problem. This will be worse if you have had a tear or stitches in the vaginal opening (perineum). Talk to your health professional if this is a problem. In general about 90% of women are able to get back to full sexual activity about 3-4 months after delivery.
Pregnancy is a special period in your married life. Use it as a stimulus to search for ways to maintain mutual emotional bonds and close physical affinity, and to satisfy sexual needs. While pregnancy may impose some restrictions on sexual life, most women find sexual activity beneficial; marital harmony and stability enriched and sexual satisfaction improved.
Remember, too, that there's more to physical intimacy than sex. If you don't feel like having sex or your practitioner has advised you not to, you can still hug, kiss, and caress each other.[1]
Enjoy your pregnancy, wear it as a crown of your womanhood and motherhood.
[1] See appendix 1 of 'The Best Sex for Life' https://www.cepstore.com.au/best-sex-for-life